Edge of the world never looked so good
It is located on the western edge of Sugar Cane Beach looking out across Mangrove Bay towards the west.
It is a single room studio unit with a loft space for sleeping, modelled on the tiny house concept.  There is a full king sized bed in the loft area, together with small built in closets either side of the bed.  
The living area comprises a corner sofa unit that converts to 2 single beds.  The kitchenette is a very compact  "galley" style kitchen that has a full stove, under counter fridge/freezer, toaster & electric kettle.  
Flat screen TV in lounge and loft area with a full suite of ITV options, internet access, air-conditioning throughout. The bathroom has a large shower.
The unit has direct access to our beach and there are also stairs leading to the waters of Mangrove Bay on the northern boundary.  The patio area overlooks Mangrove Bay on the Northern side of the unit.  
On the Southern side is a sheltered garden with a BBQ area.
The exterior of the unit is designed to resemble the wooden cottages built in Somerset in the late 19th – early 20th Centuries, by West Indian workers who were brought to the Island to work at Dockyard. [For further information see Bermuda\'s Architectural Heritage Series: Sandys by the Bermuda National Trust]
*Please note the loft area is accessed by a compact staircase and may not be suitable for individuals with mobility issues.
Features
High Speed Internet
Air Conditioning
Pets Welcome
Private Beach
Kitchenette
Kayak/Canoe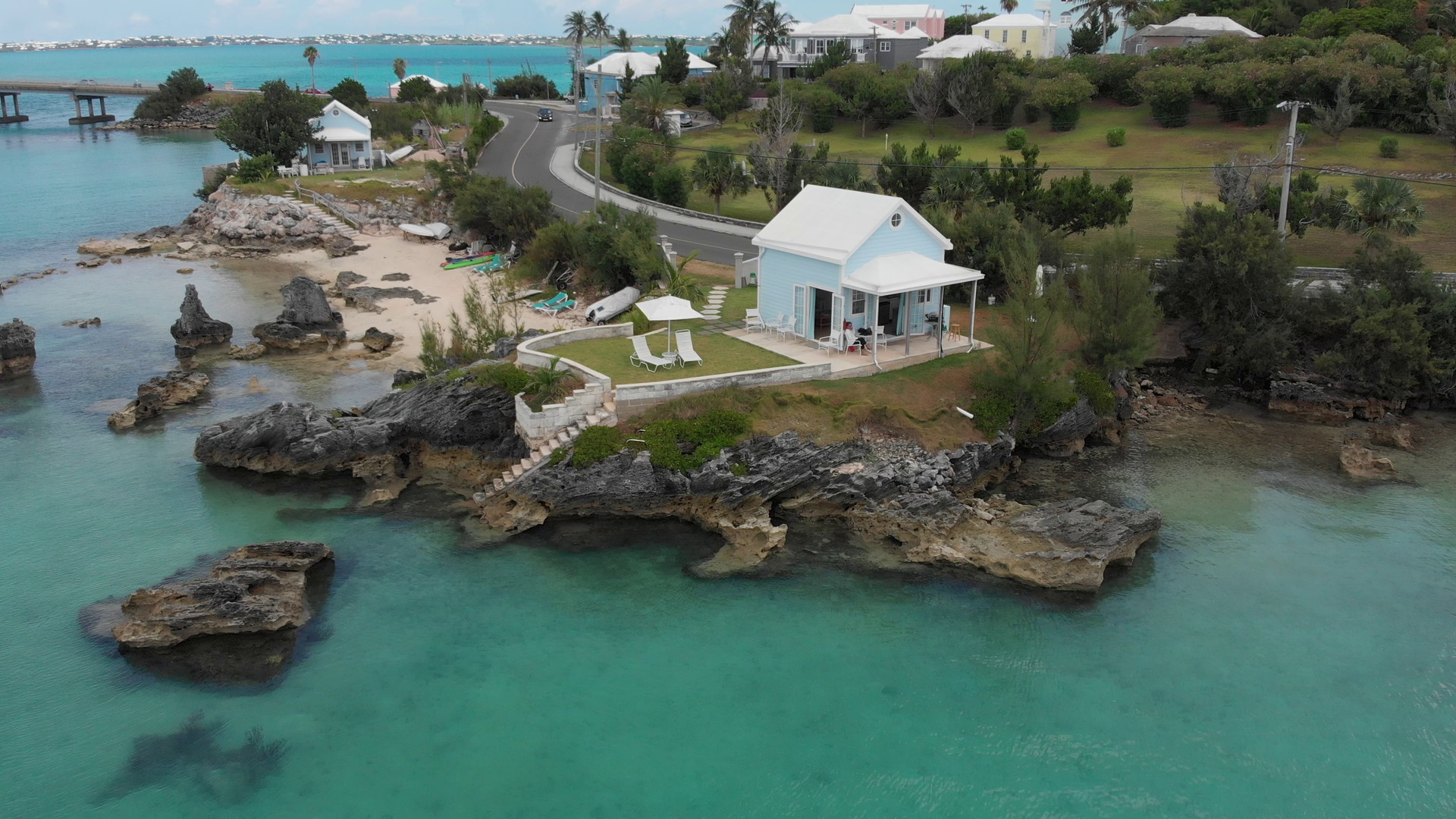 We thoroughly enjoyed our stay at Sunset Cottage. Unsurpassed views and marine life watching from the lawn. Easy access to ferries/buses and walking distance to Woody's restaurant and The Country Squire. A perfect get away place.
My husband and I had a wonderful and relaxing time at the Sunset Studio! The view was beyond amazing! I would have been happy just staring at it for the whole week! 🙂 We thoroughly enjoyed climbing on the rocks near the property and beach, but definitely bring water shoes. They're sharp!
Christine was a helpful and gracious host and was available to answer our questions and help out.
Very unique place to stay on the water! On the day we got good weather, we paddle-boarded, went snorkeling in our "front yard" and floated on inner tubes. We also loved the floating dock. We saw several sea turtles and enjoyed two really fantastic sunsets. It's called sunset studio for a reason! Hosts were extremely responsive and kind.